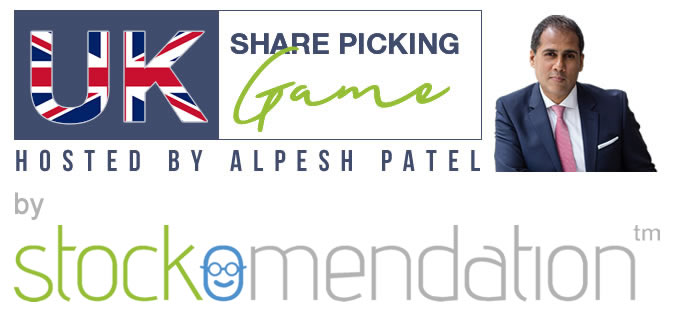 Rules
Please read these Game Rules (which incorporate the "How to Play" instructions under separate link) (and the Site terms and conditions ("Terms and Conditions") carefully as by playing the The UK Share Picking Game ("Game") and using the Site you agree to be bound by them. We reserve the right to vary these Game Rules and the Terms and Conditions at any time and will post any variations here. You are advised to review Game Rules and the Terms and Conditions on a regular basis as you will be deemed to have accepted variations if you continue to play the Game and use the Site after they have been posted. If you do not agree to abide by Game Rules and the Terms and Conditions you should not play the Game or use the Site in any way.
WARNING: ALTHOUGH THIS IS A GAME WHERE NO MONEY IS INVESTED, YOU SHOULD NOTE THAT IF YOU DO CHOOSE TO INVEST IN THE STOCK MARKET, THE VALUE OF YOUR INVESTMENTS CAN GO DOWN AS WELL AS UP SO YOU MAY GET BACK LESS THAN YOU INVEST. PAST PERFORMANCE CANNOT BE RELIED UPON AS A GUIDE TO FUTURE PERFORMANCE. THE SITE AND THE GAME (AND INFORMATION CONTAINED THEREIN) ARE NOT INTENDED TO CATER FOR YOUR INDIVIDUAL REQUIREMENTS AND SHOULD NOT BE RELIED ON BY YOU TO MAKE ANY INVESTMENT DECISIONS.
Eligibility
1. To play the Game, you must be an individual person and aged 18 or over. If you are aged under 18, you may not play the Game and/or use the Site. Entry to the Game is restricted to residents of the UK, the Channel Islands and the Isle of Man.
2. Only one entry per person is permitted. Multiple entries will be disqualified from the Game. Suspected collusion or collaboration between Players (included Players in the same household) may be deemed by us to be equivalent to a multiple entry and Players will be disqualified.
3.We may, in our sole discretion, refuse to offer the Game and/or Site to any person.
4. You are solely responsible for ensuring that these Game Rules comply with all laws, rules and regulations applicable to you. The Game and the Site are offered only for your use, and not for the use or benefit of any third party. If you do not agree to these Game Rules, do not use the Site or play the Game.
5. You must not play the Game (and will not be eligible to win any prize monies) if you are an employee and/or agent of: (a) Stockomendation Limited, or (b) any other company connected with the production, distribution or promotion of the Game.
Data collection
6. In order to learn more about Player engagement and Game Play, anonymised/aggregated Player data/statistics will be collected by Stockomendation Limited.
Registration/creating an Account
7. To play the Game you must create an account on the Site (an "Account") via the internet. Incomplete Accounts will not be accepted. You must provide accurate and complete information and keep your Account information up to date. You will need to provide your legal name upon sign up. This is because we will need to check your identity against official documentation (like a passport or a driving licence) if you win any Prize Money.
8. If you provide any information that is inaccurate or incomplete, or if we have reasonable grounds to suspect that such information is inaccurate or incomplete, we may disqualify you from the Game, reclaim any cash prizes won and/or terminate your Account, at our sole discretion.
9. You are solely responsible for the activity that occurs on your Account, and for keeping your Account password and login details safe. You must not use another person's Account or registration information for the Game and/or Site without permission. You must notify us immediately of any breach of security or unauthorised use of your Account. You should never publish, distribute or post login information for your Account and must keep such information confidential at all times.
10. You may establish, maintain, use and control only one Account for the Game on the Site. Each Account on the Site may only be owned, maintained, used and controlled by one person. In the event We, acting reasonably, determine that you have opened, maintained, used or controlled more than one Account, We reserve the right to suspend or terminate any or all of your Accounts and terminate, withhold or reclaim the awarding of any Prize Money.
Rules of Conduct
11. INSIDER TRADING: Players who have access to confidential information are not permitted to either (i) use themselves or (ii) share that information with other Players, for the purposes of playing this Game or for any other purpose in connection with this Game. All non-public information about any company listed on the FTSE 100, FTSE 250, FTSE 350, FTSE All-Share, AIM 100 and/or the London Stock Exchange is confidential information and the use of such confidential information (i) to play the Game and/or (ii) to "tip off" other Players playing the Game who might make a "Pick" and/or an investment decision on the basis of this information is illegal. As such either we acting by our sole discretion reserve the right to (i) disqualify any Player we reasonably suspect of carrying out such criminal activity and/or (ii) disqualify any Player who makes, or whom we suspect has made, an investment decision based on such a "tip off".
12. You warrant that you will not use the Site and the Game for any purpose that is prohibited by these Game Rules. You are responsible for all of your activity in connection with the Site. If you breach these Game Rules, at our sole discretion, we may terminate and cancel your Account and you will forfeit any Prize Money won. You acknowledge and agree that we may terminate any Account at any time for any reason.
13. Acting by our sole discretion, we reserve the right to remove from the Game any Player's picks that we deem to have been made as a result of cheating and/or ban any player from the Game who is deemed to be abusing or manipulating share prices.
14. You warrant and represent that you will not 'day trade', meaning you will not close and buy again that same share within the same trading day. We shall immediately terminate the Account of any person found day trading and you shall be disqualified from winning either the weekly "Pick of the Week" cash prize and/or any prize from any other Prize League.
15. You shall not download or use any content in connection with your use of the Site and/or the Game, any software application that runs automated tasks (scripts) over the internet or any other media or platform. This shall include, but not be limited to the following: applications, files, codes, documents, text, data (or other materials), internet bots, web robots or robots.
16. You shall not use software or other methods to create additional share picks or other benefits over and above those allowed by the Game.
17. You shall not use, or cause to be used, any programme on the Site which contains software viruses or any other computer codes, files, content, or programmes that are designed or intended to disrupt, damage, limit or interfere with the proper function of any software, hardware, or telecommunications equipment or to damage or obtain unauthorised access to any of our systems, data, passwords or other information of ours or of any third party;
18. You shall not take any action that is designed or intended to obtain passwords, Account information, or private information from any other Account and/or Player. You shall not impersonate another person or entity;
19. You shall not: (i) interfere or attempt to interfere with the proper working of the Site, the Game and/ or any activities conducted on the Site; (ii) bypass, circumvent or attempt to bypass or circumvent any measures we may use to prevent or restrict access to the Site (or other accounts, computer systems or networks connected to the Site); (iii) harvest or scrape any Content from the Site; or (iv) otherwise take any action in breach of these Game Rules or any other rules and procedures which may be applicable from time to time.
20. If for any reason the Site or the Game is not running as originally planned (e.g., if it becomes corrupted or does not allow the proper usage and processing of entries in accordance with the Game Rules and/or the Website Terms and Conditions, or if infection by a computer virus, bugs, tampering, unauthorised intervention, actions by Players, fraud, technical failures, or any other causes of any kind, in the sole opinion of Us corrupts or affects the administration, security, fairness, integrity or proper conduct of the Site and the Game), We reserve the right, in our sole discretion, to disqualify any individual implicated in or relating to the cause and/or to cancel, terminate, extend, modify or suspend the Game. If such cancellation, termination, modification or suspension occurs, a notification may be posted on the Site.
21. We reserve the right to ban any Player whose behaviour, in our sole discretion, is deemed by us to be inappropriate, threatening, defamatory or otherwise in breach of these Game Rules or the Terms and Conditions.
22. We reserve the right to disqualify any Player or prize winner whose conduct is contrary to the Game Rules and/or the spirit of the Game Rules or the intention of the Game or who we suspect, acting reasonably by our sole discretion, is acting in a fraudulent manner and to declare as void any or all of their claims based on such conduct. Any eligibility for Prize Monies shall cease immediately upon such removal from the Game. The exercise of such discretion shall not result in any compensation being payable or paid to any Player.
Publicity
23. We will contact you if you are one of the winners of a Prize League. You allow us to use your name and/or likeness for advertising and publicity purposes in connection with the Game which may include, but not be limited to, publication of the winners' names and photographs on our websites in any and all media worldwide without notice. We may also ask you to provide a statement and/or quotation for publication. No fees shall be payable to you under the provisions of this clause 23.
Termination
24. We may terminate your access to all or any part of the Site or the Game at any time, with or without cause, with or without notice to you, effective immediately. If you wish to terminate your Account, you may do so by following the instructions on the Site.
25. All provisions of these Game Rules which by their nature should survive termination shall survive termination.
Governing Law and Jurisdiction
26. These Game Rules shall be governed by and construed in accordance with the laws of the England and Wales and shall be subject to the exclusive jurisdiction of the English courts.
Miscellaneous
27. The Prizes as described are available on the date of publication of these Game Rules. Events may occur that render the Game itself or the awarding of the prizes impossible due to reasons beyond the control of Us and we may at our absolute discretion vary or amend the Game, the prizes or these Game Rules and Players agree that no liability shall attach itself to Us as a result.
28. If any provision of these Game Rules is found to be unenforceable or invalid, that provision will be limited or eliminated to the minimum extent necessary so that these Game Rules will otherwise remain in full force and effect and enforceable.
29. The determination and decision of Stockomendation Limited on all matters shall be final and no correspondence or discussion will be entered into.